Learn More About
Wisdom Teeth Pain
Impacted wisdom teeth can lead to oral health problems such as infection, tooth decay, and gum disease. Don't let wisdom tooth pain compromise your oral health. Brabham Smiles offers exceptional dental services to meet your needs and budget. Our experienced dentists provide quality care and take the time to explain your treatment options so you can make an informed decision about your dental care.
We Make
Wisdom Teeth Pain

Management Easy for You
Wisdom teeth are the last set of molars to grow in and can often cause problems. The teeth may crowd existing teeth or grow at an awkward angle, causing pain and discomfort, and disrupting your everyday life. It may become impacted, which may cause redness and swelling of the gums.
What's even worse is that impacted wisdom teeth may cause issues later in life. Their location makes it difficult to properly brush and floss this area of your mouth, increasing the risk of tooth decay and gum infections. Plus, it is more vulnerable to extensive oral health problems.
If you have an impacted wisdom tooth, you might need to get that checked out with our professional team. At Brabham Smiles, we offer a variety of services to help our patients manage their wisdom tooth pain. Our highly-trained dentists have years of experience and keep up with the latest dental innovations and techniques to give you world-class dental care. We will have a comprehensive evaluation, including diagnostics such as X-rays, to evaluate the position of your wisdom teeth and recommend a treatment plan based only on your unique needs.
Common Causes of
Wisdom Teeth Pain
Many people experience pain from their wisdom teeth, with a few common causes. One reason is that the wisdom teeth may be impacted, meaning they grow in at an angle and get stuck. This can cause pain, inflammation, and damage to nearby teeth.
Another reason for wisdom tooth pain is cavities. Since wisdom teeth are often difficult to clean, they are more susceptible to cavities. You may experience pain, sensitivity, and infection if you have cavities in your wisdom teeth or other adjacent teeth.
Furthermore, wisdom teeth can also cause gum disease. If the gum tissue around the wisdom teeth becomes swollen or infected, it can lead to pain and other problems. If you are experiencing pain from your wisdom teeth, talk to your dentist to find out what treatment will work for you.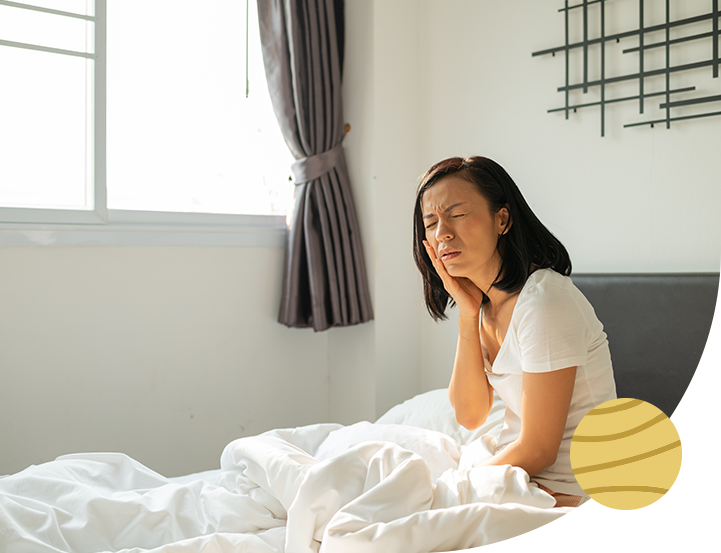 Dental Services That Can Address
Wisdom Teeth Pain
Dental Fillings
Since wisdom teeth are the last set of teeth to erupt, most of the time, there's no space left for them. This causes them to erupt at an angle, creating niches that are difficult to brush. When this happens, tooth decay will eventually occur causing pain. By placing a dental filling on teeth with tooth decay, pain can resolved. Dental fillings restores the lost tooth structure, protects it from further decay and keeps food and bacteria from getting trapped in them.
Wisdom Teeth Removal
One way to help manage wisdom tooth pain is to have them removed. While the thought of having surgery may be daunting, the procedure is typically quick and relatively painless. Also, it uses sedation options to help you get the treatment you need at your utmost convenience.
You're Just One Click Away from a

Beautiful Smile

.
Your smile deserves to be as beautiful as it can be. With Brabham Smiles, you can get the beautiful smile you've always wanted in just one click.  We offer various services to suit your needs, and we're here to help you every step of the way. Find out how our team can help you achieve your smile goals. Schedule an appointment today and discover the difference we can make.
Payment Options

That We Accept at
Brabham Smiles
Frequently Asked Questions About


Wisdom Teeth Pain